You can find below top-rated Tech gifts or gadgets that make great holiday gifts, birthday gifts and gifts for any other occasion. All of the gift items listed below offer great value for your money.
The list below of Best tech gifts under $50 has been manually selected based on ratings, user reviews and comments from various online stores, websites and forums.
We hope that by making a list of the best Tech gifts under $50, you can easily find the perfect gift for your family and friends without saving time and increasing your finances.
Fire TV Stick with Alexa Voice Remote
The Fire TV Stick turns your existing TV into a smart TV by enabling internet connection to your TV.
Fire TV Stick works with any TV that has an HDMI port. Plug the Fire TV Stick into your TV's HDMI port and you can stream YouTube, Netflix, Hulu, and more on your TV's bigger screen.
The Fire TV stick includes an Alexa Voice Remote, so you can browse movies, videos, or even order pizza with just your voice.
The Fire TV Stick consistently appears on our list of top selling products and offers excellent value for your money.
The Fire TV Stick is available on Amazon for $39.99 (current price may vary)
---
Kindle Fire 7 inch tablet
It's no surprise to learn that the Kindle Fire 7 tablet is Amazon's best selling bestseller. This is the cheapest tablet you can find on the market, making it a great gift for kids, teens and adults.
The Kindle Fire 7″ tablet features a fast 1.3 GHZ quad-core processor, front and rear cameras, a 7-inch IPS display, and offers over 7 hours of battery life.
Combined with Amazon Prime Membership, the Kindle Fire Tablet gives you unlimited free access to thousands of movies, TV episodes, books and millions of songs.
The Fire 7″ tablet is available from Amazon for $49.99 (current price may vary)
---
Sol Republic Punk ($39.95)
The Sol Republic Punk is a sturdy wireless speaker with waterproof and sand protection that can be used near a swimming pool, beach or shower.
The Sol Republic Punk can play music wirelessly from a distance of up to 60 feet and has an excellent battery life of 8 hours.
---
Turtle Beach Impact 100 ($50)
The Turtle Beach Impact 100 is probably the most affordable gaming keyboard on the market.
This gaming keyboard has a compact and lightweight design that requires no software or special drivers. Just plug in and use the Impact 100.
The Turtle Beach Impact 100 sets itself apart from its competitors by doing a fairly good job of giving you the experience of an expensive mechanical keyboard while using the cheaper membrane technology found on the cheapest keyboards.
The Turtle Beach Impact 100 offers a good value for money and is a recommended purchase if you can't afford an expensive mechanical keyboard.
---
NETGEAR N300 WiFi Range Extender ($29.99)
The NETGEAR N300 WiFi Range Extender can be a useful gift for friends and family who have mentioned that the WiFi network in the house is weak and that WiFi networks are not available throughout the house.
Check current price
Simply plug the NETGEAR WiFi Range Extender into a wall outlet in your home with a weak WiFi network and you can easily install and use this innovative gadget.
The NETGEAR N300 WiFi Range Extender starts working as a router in your area, extending your WiFi signal to that area.
NETGEAR Range Extender works with all standard routers and you don't need to switch to NETGEAR router to use NETGEAR N300 WiFi Range Extender.
---
SanDisk 128GB Ultra Fit USB ($29.93)
With SanDisk Ultra Fit USB, USB 3.0 performance is faster, making it easy to transfer data and share videos and music between multiple devices. Compared to USB 2.0 disks, SanDisk Ultra fit can transfer movies and videos up to 15 times faster than standard USB 2.0 drives.
SanDisk Ultra Fit USB 3.0 Flash Drive allows you to create password protected personal folders. Files in Protected Personal Folders are protected by strong 128-bit AES encryption, so you can easily share files without risking your personal data being compromised.
---
Fujifilm Instax Mini 9 Instant Film Camera ($50 to $69)
Even the most ardent advocates of digital photography will find it impossible to resist this cute little camera for just $50.
With the Fujifilm Instax Mini 9 camera, you can take pictures, develop and print instantly. Instant cameras were first introduced by a company called Polaroid, and most people still refer to instant cameras as Polaroid cameras.
The Fujifilm Instax Mini 9 is an ideal gift for children who are interested in photography, and it is also a nostalgic gift for anyone who values ​​printed memories.
The Fujifilm Instax Mini is a $50 camera that produces average quality photos that are great for print or non-digital photography.
The camera creates photos from 54 x 86 mm film that develops in about 3 minutes. You have to buy film to keep taking pictures with this camera, but when you buy it in a twin pack, film isn't that expensive.
---
Anker PowerCore 20100mAh Power Bank ($39.99)
Anker PowerCore 20100 is an external battery charger for iPhone and Android phones. This popular Power Bank measures 6.5 x 2.3 x 0.9 inches and fits in your pocket or handbag.
Anker PowerCore provides fast charging technology for both USB ports, so you can connect and charge both devices at the same time.
There are four blue LED indicators on the front of this device, making it easy to monitor the amount of charge remaining in the power bank. As you may have already guessed, 1st place = 25%, 2nd place = 50%, etc.
This power bank can charge your iPhone up to 7 times on a single charge. Then you need to recharge the Power Bank using a 23.5 inch microUSB cable that plugs into the wall adapter.
---
Roku Streaming Stick ($49.99)
Roku has strengthened its products with the sleek and fast Roku Streaming Stick against the competition from Amazon Fire TV Stick and Google's Chromecast. This is the best tech gifts under $50.
Roku argued that the new stick has a higher processing power than other pocket-sized streamers. This announcement weighs in considering that the new Roku Streaming Stick is powered by a quad-core processor and packs a faster 802.11 a/b/g/n dual-band antenna.
The Roku Streaming Stick includes a full-size remote with 4 buttons pre-programmed for easy connection to YouTube, Netflix, Spotify and Google Play.
Netflix claims that the Roku Streaming Stick's search function is designed to bring unbiased search results, and that it can bring you free and cheap movies, music, and videos.
---
Google Chromecast ($35)
Chromecast is a tiny device that turns a small TV into a web-enabled smart TV at a lower cost.
Once connected to your HDTV via HDMI cable, you can use Google Chromecast to cast TV shows, movies, music, sports, and games running on your phone, tablet or PC to the bigger screen of your TV.
Chromecast works on iPhones, iPads, Android phones, Android tablets, Windows laptops, Macs and Chromebooks.
How to Ping Iptv – The Easiest Way to Pinging Iptv For Maximum Rewards
---
TaoTronics Bluetooth Headphones ($30.99)
TaoTronics Bluetooth headphones feature the latest CVC noise canceling 6.0 technology to reduce outside noise, allowing you to chat with friends and family even in high-noise environments.
As you can see in the image above, TaoTronics Bluetooth headphones are ergonomically designed to fit the contours of your ears and stay in place even when you're physically active.
These headphones use the latest Bluetooth 4.1 technology for quick pairing with your smartphone, tablet or music player.
---
Sades SA807 Gaming Headset ($22.99)
The Sades SA807 gaming headset is specially designed for Xbox One, PS4, and is also compatible with laptops, desktops and tablets.
Available in a unique black and green design, the Sades SA-807 blocks all external sound with an adjustable 3-piece padded headband, comfortable ear cushions and closed earcup design.
The Sades SA807 Gaming Headset is a lightweight, comfort-focused design with lightweight materials and an ergonomic fit that promises impressive sound quality and hours of comfortable gaming experience.
Here is a list of great mics for rap vocals
Note: If you have a first-generation Xbox One controller, you will need an additional Microsoft adapter.
Anker SoundCore Bluetooth Speaker ($35.99)
The Anker SoundCore Bluetooth speaker uses dual high-performance drivers and patented spiral bass ports to deliver superior sound quality. It guarantees less than 1% total harmonic distortion, ensuring full stereo sound with improved clarity.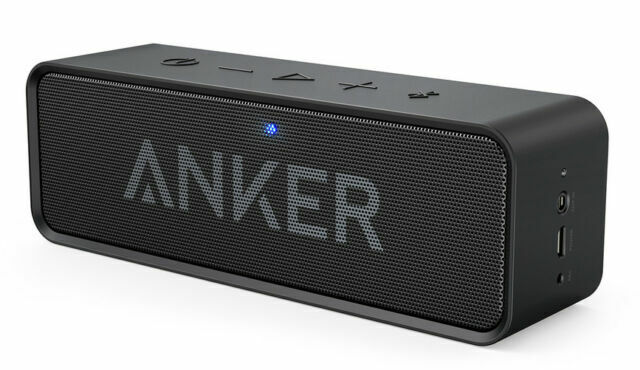 The Anker SoundCore Speaker features Bluetooth 4.0 technology and is compatible with almost all Bluetooth enabled devices such as tablets and smartphones.
The Anker SoundCore Speaker is designed to instantly connect to any Bluetooth enabled device within a range of 66 feet and is powered by a large-capacity lithium-ion battery rated for 500 song play times.
---
Google Chrome Cast Audio ($35)
Chromecast Audio can turn your existing stereo, boombox, or home PC speaker into a wireless music system.
The device is easily paired with your smartphone, allowing you to play music from Spotify, Pandora and other streaming music services over WiFi to a larger speaker.
Google Chromecast Audio allows Android device users to cast any audio from their device to the speaker, and works on iPhone and iPad in a limited way.
---
Logitech M570 Wireless Mouse ($25.99)
The Logitech M570 Trackball Mouse is a long range mouse with a rugged 2.4GHz wireless connection, allowing you to control your laptop, desktop computer or home theater PC from a distance of up to 30 feet.
This wireless mouse is sculpted so you can support your hand and move the cursor without moving your arm in one place without taking your hand off.
One of the features of the Logitech M570 wireless mouse is that it works on all types of surfaces, including hard tables and soft and comfortable sofas.
The Logitech M570 uses a single AA size battery and promises up to 18 months of battery life.
---
Logitech K380 multi-device keyboard ($29.99)
The Logitech K380 is rated as one of the cheapest multi-device wireless keyboards on the market.
The keyboard has a compact and sturdy design that allows you to connect three different devices at once. This means you can use this Bluetooth keyboard on your computer, phone or tablet anywhere in your home.
The Logitech K380 is designed for cross-platform use and allows keys to be mapped to supported functions and shortcuts in different operating systems.
This multi-platform keyboard is compatible with a wide range of Bluetooth enabled devices that support external keyboards, including most Windows computers, Macs, Chromebooks, Apple TVs, Android and iOS based phones and tablets.
The keyboard uses 2 AAA batteries and can last up to 24 months.
---
Improper Flash ($28.96)
Misfit Flash is an inexpensive activity tracker that automatically tracks steps, distance, calories and sleep, essentially offering the same features as more expensive devices in this category.
Misfit Flash is made of soft touch plastic and polycarbonate material and is designed to be waterproof up to 30 meters.
This fitness tracker works with iPhone and Android phones, allowing you to wirelessly upload your health data to your phone.
The non-conformance is powered by a non-replaceable battery that can last up to 6 months.
---
Eco dot
The Echo Dot is an amazing voice control device that connects to a digital assistant named Alexa using remote voice recognition.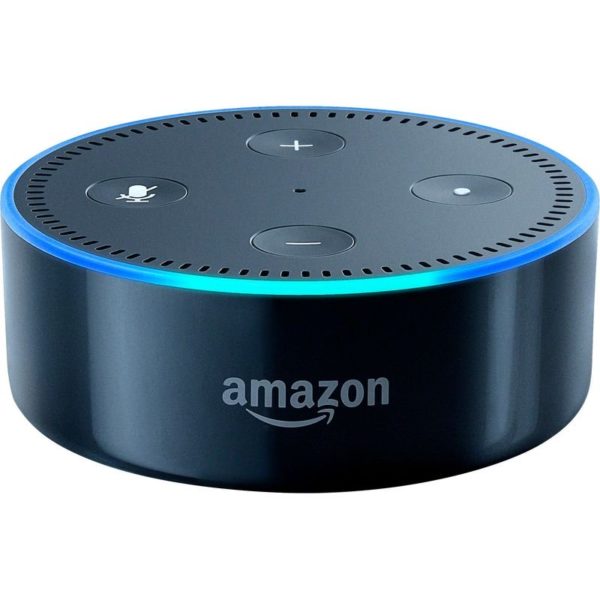 Once set up, this little hockey puck shaped device can hear you throughout the room and instantly respond to voice commands.
Echo Dot can provide weather reports, news and information. You can play your favorite songs, playlists or songs from your favorite artists.
Automate objects in your home using Echo Dot to control lights, blinds, thermostats, and read audible books while you sleep.
Echo Dots are available on Amazon for $49.99 (current price may vary)